Hello Curious Readers!
I am introducing a new topic onto Curiouser and Curiouser today. The "Spotlight" post is all about other people in the online community, whether it be a blog I particularly enjoy and would prompt you to look at, an interview with a fellow blogger or a person who is using social media, blogging, websites or the internet for a greater cause or to highlight their work in a positive way.
It is my way of giving back to this amazing community and sharing the wonderful people and stories I find throughout my adventures online.
Today's Spotlight is on the amazing people at
The Blog Guidebook.
As someone new to blogging, I can highly recommend their site. Their resources about blogging, providing valuable hints and tips to getting your blog out there, tutorials on bringing an extra bit of wonder to your blog or just for a supportive community are just what someone new to the blogosphere needs. Even if you are an old hand at blogging, I can guarantee there is something for everyone on the site so please make a visit to them.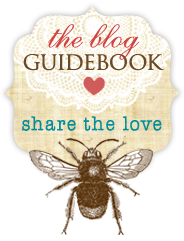 Share the love, truer words were never spoken